R-evolution creates blueprint for the future of green hydrogen
R-evolution is establishing the blueprint for the digitalisation of green hydrogen production, leveraging technology innovations from Hexagon and other industry partners. These digital reality solutions will accelerate the transition to this clean energy source at a global scale, and will vastly improve production efficiency and delivery. R-evolution's facilitation of the strategic partnership between Hydrogen Utility (H2U) and Hexagon's ALI division is the first stage in the development of our green hydrogen investment portfolio.


Why green hydrogen?
Green hydrogen has the potential to supply up to 25% of the world's energy needs by 2050 and become a US$10 trillion addressable market by 2050, according to Goldman Sachs. Green hydrogen is produced using renewable energy and electrolysis to split water and is distinct from grey hydrogen, which is produced from methane and releases greenhouse gases into the atmosphere, and blue hydrogen, which captures those emissions and stores them underground. Scaling up green hydrogen production will be essential to helping global economies to achieve net zero emissions by 2050 and limit global temperature increase to less than 1.5 degrees Celsius.


Empowering progress



The R-evolution green hydrogen blueprint
Producing hydrogen without emissions is quite expensive right now, but it will inevitably be the cheapest source of renewable energy for many applications in the future. By combining and integrating selected digital reality solutions from Hexagon and partner portfolios, we are addressing efficient, cost-effective green hydrogen production across the entire ecosystem.
Creating the digital thread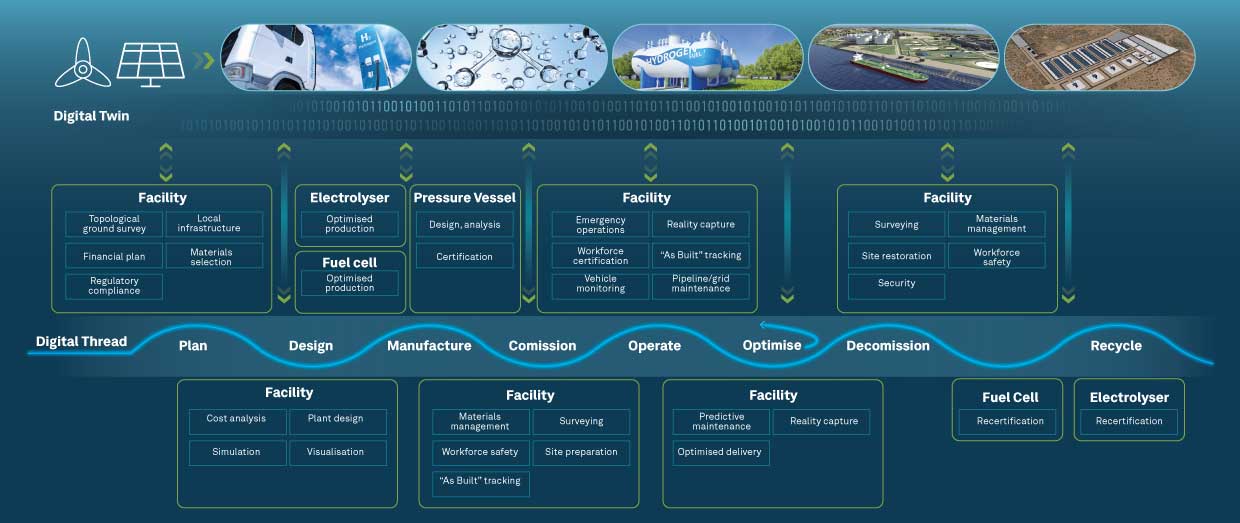 Every stage in the lifecycle of a hydrogen facility, from conception and design to decommissioning affects the asset's productivity and efficiency. Leveraging data from every stage throughout the lifecycle enables an intelligent feedback loop, or digital information trail, that creates a virtuous cycle of continuous improvement. Putting all this data to work empowers the industry to directly observe interrelated information from multiple lifecycle stages in real time—the only path to lower costs and accelerate scale within the green hydrogen ecosystem.
Our blueprint includes:
The future of green hydrogen projects
Hydrogen brings enormous opportunities but also significant challenges. Worldwide, the industry is limited to about one gigawatt of hydrogen electrolyzers each year. To reverse the negative impacts of climate change, green hydrogen production needs to grow 1,000-fold by 2030.
With our digital blueprint for green hydrogen's future, R-evolution will continue to facilitate additional partnerships around the world with an eye to integrating green hydrogen production into our future renewable energy projects.
Case study: Green hydrogen blueprint at work
Our green hydrogen blueprint is being implemented and validated by Hexagon's ALI division in collaboration with Australia-based green hydrogen leader, Hydrogen Utility (H2U). They will leverage a digital "operational" twin powered by Hexagon's SDx software solutions leveraging data in real-time for a centralised single-source-of-truth platform. Hexagon's technology solutions will be implemented across all stages of the asset lifecycle — from planning, design, and construction, to handover, operations and maintenance — to maximise productivity and reduce risk.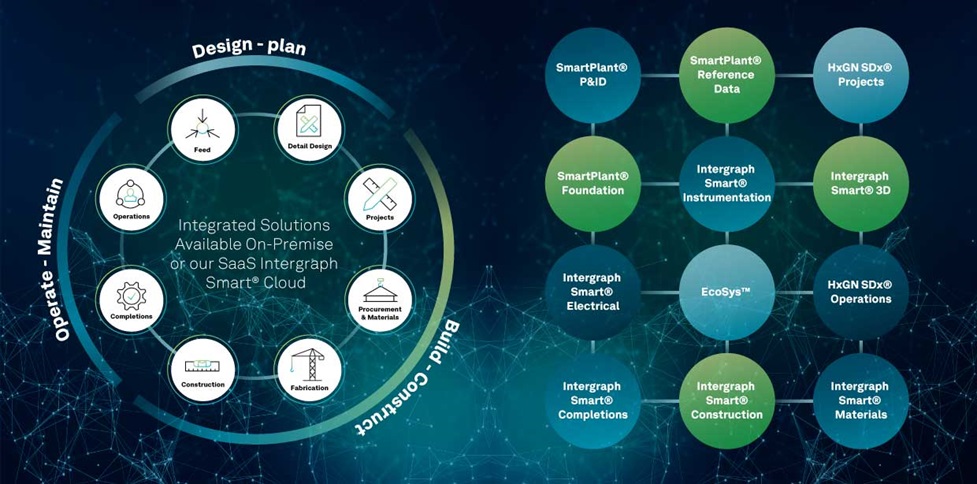 Listen to H2U Founder and CEO, Dr Attilio Pigneri
To learn more about R-evolution's work in green-tech innovations, visit https://r-evolution.com/r-initiatives.