R-evolution in progress: Digitalising solar energy production
On the front lines of R-evolution
The first phase of R-evolution's photovoltaic (PV) power production initiative is operational and growing! The solar park project portfolio kicked off with the acquisition of a 40-hectare site—equivalent to 60 football fields—in the south of Spain near Malaga, called Archidona. The site now hosts our first 8.24 MWp photovoltaic solar park, which contains 20,592 solar panels that convert the sun's energy into clean electricity and connects to the grid.
We are now in the process of doubling the capacity to 16.44 MWp with a second park adjacent to the first. The total capacity is enough to power close to 6,000 households each year!
The completed solar park will include almost 40,000 bifacial (double-sided) panels mounted on horizontal axis trackers, which together enable energy absorption from both sides and automatic tracking of the sun to increase efficiency and output.
R-evolution will expand the park's efficiency by putting data to work using Hexagon's hardware and software monitoring solutions, including visualisation platforms and sensors. The technologies will combine to create a Smart Digital Reality of the entire solar park that can be remotely and autonomously monitored to detect solar panel anomalies, improve maintenance, aid inspections and more.

Solar energy is a high-growth sector with a lower cost of entry in recent years: the price of solar panels has fallen 70 per cent since 2017. Already today, solar power alone accounts for nearly 60 percent of the expected growth in renewables.
Major markets, such as the United States, China and the European Union are predicted to add an average of 125+ GW of capacity per year through 2025. Solar tech innovations will continue to drive down costs while improving efficiency, a trend forecasted to continue for the next decade. R-evolution will accelerate this trend by leveraging Hexagon's solutions.
R-evolution's solar park exemplifies the union of sustainability and profit in action
R-evolution's photovoltaic (PV) project portfolio increases operational efficiency by creating and leveraging a Smart Digital Reality at every stage—from planning, designing, manufacturing, building, operating, and optimising solar energy production.
The solar park in Archidona, in the south of Spain near Malaga, relies on Hexagon's broad range of digital solutions, including construction design tools, visualisation platforms and monitoring sensors and software. This combination creates a sustainable ecosystem that exemplifies the future of R-evolution.
These Hexagon innovations are already in place at the Archidona solar park:
R-evolution teams up with Google to accelerate the renewable energy transition
R-evolution is leveraging Google Cloud to develop a global blueprint that decreases green premiums (the difference in cost between a product that involves emitting carbon and an alternative that doesn't) and accelerates the renewable energy transition.
Hexagon's sensor and software digital reality solutions are underpinned by its technology platform, Xalt. Xalt enables all solutions to work seamlessly together, providing an integrated data flow from Hexagon's sensors and other input sources to present analysed data in a single interface. A missing ingredient was the ability to process large amounts of real-time and historical data with more artificial intelligence and machine learning (AI/ML) capabilities and a simple framework that allows quick innovation, now made possible via BigLake. Through the partnership with Google Cloud, BigLake can help more easily scale additional use cases, such energy forecasting or anomaly detection, now available at R-evolution's solar park in Spain. See Google Cloud R-evolution case study.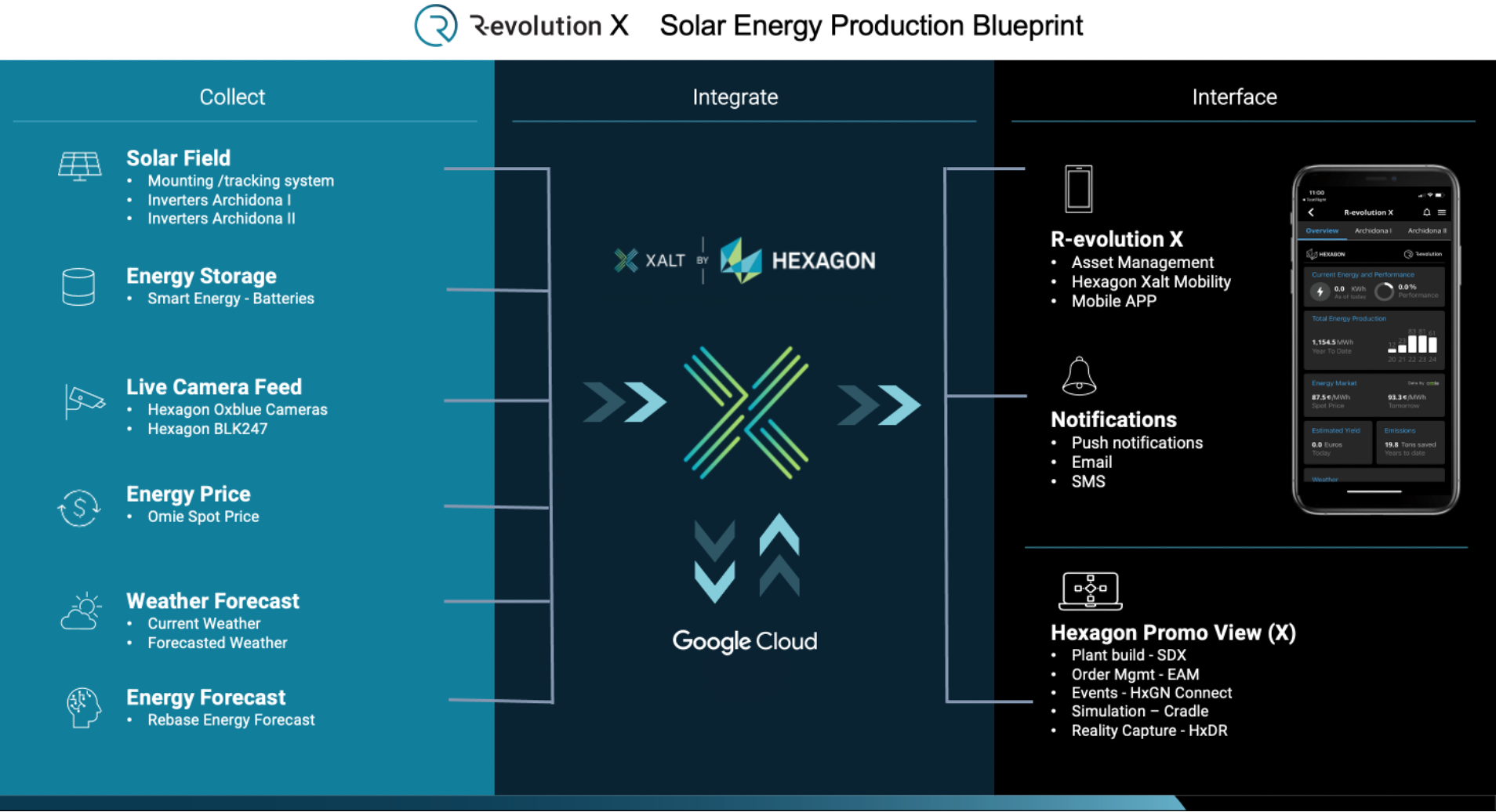 To learn more about R-evolution's work in green-tech innovations, visit https://r-evolution.com/r-projects.